Richard Wallrath Educational Foundation
Dick Wallrath doesn't believe in giving something for nothing. What he does believe in is giving opportunities. That's why the foundation gives college scholarships to deserving young people. It's money they can put with a lot of hard work to make something out of themselves. It's teaching a man to fish, so to speak.
"When you give a child an education," Dick says, "you give them something no one can steal. You can make their dreams come true. They can go and do something with their life."
Since the foundation's inception in 2006, it has given out 1,400 $10,000 scholarships to Texas 4-H and FFA members.
---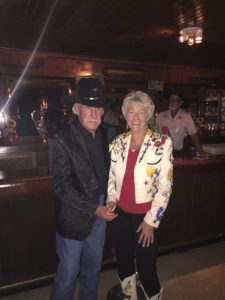 About Richard Wallrath
Richard "Dick" Wallrath is no stranger to hard work. Raised on a dairy farm, he was balancing farm chores and school work by the time he'd reached the double digits.
After school, Dick went into the construction business. He found great success, but also found a vice that would change everything — alcohol. He lost almost everything before finding God and Alcoholics Anonymous.
With help from both, along with a powerful speech by R.G. LeTourneau and books like The Power of Positive Thinking and Think and Grow Rich, Dick turned his life around. He launched a window business and immediately started giving back and paying it forward, even when he didn't have the money to give.
Now 50 years sober, he is passionate about sharing his story and struggles in an effort to help others get and stay clean. He's proof second chances are for real, that hard work pays off and it truly is better to give than to receive.
---
Deep in the Heart Movie
An inspirational true story, Deep in the Heart chronicles the life of Richard "Dick" Wallrath, the biggest all-time individual donor to Texas 4-H and FFA organizations. After hitting rock bottom and losing it all, he was determined to win back his family, make something of himself and leave the world a better place than he found it. Through faith and a lot of hard work, he did just that.
The film, which was chosen by the Austin Film Festival as one of the 5 "must see" films at the 2011 event, is raw, emotional and heartwarming.
100 percent of all proceeds from the sale of Deep in the Heart go toward scholarships through the Richard "Dick" Wallrath Education Foundation.